Paul von Ragué Schleyer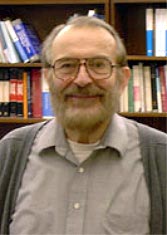 Born February 27, 1930 in Cleveland, Ohio, USA.
Professor of Chemistry and Co-Director, Institute of Organic Chemistry, University of Erlangen-Nuremberg, Germany. Graham Perdue Distinguished Visiting Professor, Department of Chemistry, University of Georgia, Athens, Georgia, USA.
Alfred P. Sloan Research Fellow, 1962–66; Fulbright Research Fellow, University of Munich, 1964–65; J. S. Guggenheim Fellow, University of Munich, 1964–65; Dr. Honoris Causa, Université de Lyon, 1971; Senior US Scientist Award, Alexander v. Humboldt Foundation, 1974–75; Fellow, American Association for the Advancement of Science, 1981; Member, Bavarian Academy of Sciences, 1984–; Adolf-von-Baeyer Prize, German Chemical Society, 1986; James Flack Norris Award in Physical Organic Chemistry, American Chemical Society, 1987; Heisenberg Medal, Hungarian Chemical Society and World Association of Theoretical Organic Chemists, (WATOC) 1987, President, WATOC, 1990; Christopher K. Ingold Medal and Lectureship of the Royal Society of Chemistry, London, 1988; Cope Scholar Award of the American Chemical Society, 1991; Merck-Schuchardt Chair, Belgian Chemical Society, 1991.
Author of:
650 scientific papers. Books : 5 volumes on "Carbonium Ions", co-edited with G. A. Olah, Wiley, 1968–1976. Comments in "The Nonclassical Ion Problems", by H. C. Brown, Plenum Press, 1977. "Ab initio Molecular Orbital Theory", Wiley, 1985; jointly authored with W. Hehre, L. Radom, and J. A. Pople.
Important Contributions:
Physical organic chemistry and the mechanisms of organic reactions.
Conformational analysis.
Spectroscopic studies of hydrogen bonding.
Carbonium ion rearrangements, reactivities and stabilities; solvolysis mechanisms.
Adamantane, diamondoid molecules, norbornane and other bridged ring systems.
Theoretical calculations applied inter alia to carbonium ions, carbanions, reactive intermediates, organolithium, and boron compounds.
The discovery of new molecular structures and new bonding principles.
An obituary can be found at
1.
PaulvonRagueSchleyer.pdf
.
2.
http://www.nature.com/nature/journal/v517/n7532/full/517022a.html
.