Stefan Grimme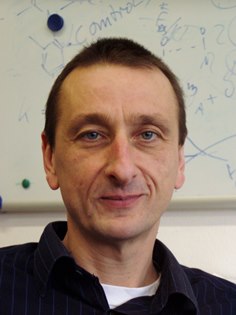 Born September 4, 1963 in Braunschweig, Germany
Professor of Theoretical Chemistry, Mulliken Center for Theoretical Chemistry, Universität Bonn, Germany
Email:grimme@thch.uni-bonn.de
WWW: external link

Bennigsen Förderpreis of the Land Nordrhein-Westfalen (1998), Dozentenstipendium of the Fonds der Chemischen Industrie (1998), Lise Meitner Lectureship Award, University of Jerusalem (2010), Elected Member of the DFG Fachkollegium Molecular Chemistry (since 2011), Schrödinger Medal of WATOC (2013)
Author of:
more than 300 scientific articles in journals of chemistry and physics
Important Contributions:
electronic structure theory for large systems, density functional theory, development of functionals (e.g. double hybrids), perturbation theory (SCS-MPn), dispersion corrections (DFT-D3)
electronically excited states, electronic spectroscopy, mass spectrometry, chirality, circular dichroism, theoretical thermochemistry, benchmark sets (e.g. GMTKN30)
applications in (bio)chemistry and organo-metallic chemistry, frustrated Lewis pairs, non-covalent interactions, protein-ligand interactions, supramolecular chemistry, molecular crystals.