George C. Schatz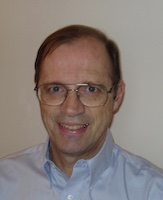 Born April 14, 1949 in Watertown, New York.
Professor of Chemistry, Department of Chemistry Northwestern University, Evanston, Illinois, USA.
Email:schatz@chem.northwestern.edu
WWW: external link

Herbert Newby McCoy Award-Caltech (1975). Alfred P. Sloan Research Fellow (1980–1982). Camille and Henry Dreyfus Teacher–Scholar (1981–1986). Fresenius Award (of Phi Lambda Upsilon) (1983). Japan Society for Promotion of Science Fellow (1986). Fellow, American Physical Society (1987). Visiting Fellow, Joint Institute for Laboratory Astrophysics, University of Colorado - (1988–89). Max Planck Research Award (1993). Fellow, AAAS (1999). Editor-in-Chief, Journal of Physical Chemistry (2005–), (Senior Editor 1993–2004). Chair, Division of Chemical Physics, American Physical Society (1995). Chair, Division of Physical Chemistry, American Chemical Society (2000).
Author of:
Over 350 publications, including the textbooks Quantum Mechanics in Chemistry, (with M. A. Ratner), Prentice Hall (1993) and Introduction to Quantum Mechanics in Chemistry, (with M. A. Ratner), Prentice Hall (2001).
Important Contributions:
Schatz's best known work is concerned with quantum theories of reactive collisions between molecules. His study of H + H2 was a landmark calculation that continues to be important over 25 years later. Schatz was also a major contributor to the discovery of transition state resonances in reactive collisions. His determination of the resonance lifetime of the N2H molecule was the key to understanding the mechanism underlying the thermal De-NOx process.
A field that Schatz initiated is the study of state-to-state chemical reactions involving polyatomic molecules using quasiclassical methods. This work includes the development of methods for determining action-angle variables for polyatomic molecules, the development of the global analytical potential energy surfaces for reactions involving four or more atoms, and numerous applications to polyatomic molecule reactions of relevance to combustion and atmospheric chemistry. His prediction of mode-selective reaction dynamics in the H + H2O reaction stimulated the first experimental demonstration of this effect.
Schatz developed one of the first electromagnetic theories of Surface Enhanced Raman Scattering (SERS), and he did the first theoretical studies of Surface Enhanced HyperRaman Scattering. In recent years he has pioneered the use of numerical electromagnetic scattering theory methods to describe the extinction and scattering spectra of metal nanoparticles, and he has developed new electrodynamics theories of metal nanoparticle aggregates of relevance to biosensors. In addition Schatz has developed a new class of reduced dimensional molecular dynamics models of DNA that are capable of describing DNA melting, and he has developed theories of thin film deposition processes.